COVID-19 UPDATES
TO OUR CUSTOMERS:
We are committed to the safety and health of our employees, customers, vendors and the community of which we are a part. Please note just a few of the many precautionary measures we've taken throughout our dealership to protect our visitors and employees:
• Regular use of alcohol based / or bleach solutions/ or EPA-registered disinfectants and antibacterial sanitation products (wipes, sprays, cleaners) on high touch surfaces.
• Providing increased air circulation via scheduled or consistent opening of doors.
(Thus please pardon chilly weather and breathe in with confidence)
• Closure of nonessential departments, supporting #StayHomeStayHealthy efforts
• High visibility postings of CDC Cold / Cough / Flu Etiquette and Reminders
• Provision of available hand sanitizers, disinfecting spritzes or wipes for onsite use.
• Practice and enforcement of CDC recommended Social Distancing (described as 6 feet) during all face to face interactions. (Air hugs and virtual handshakes welcomed!)
• All serviced vehicles are sanitized post service and pre-delivery.
• Online access to Joydrive platform for seamless, touchless, vehicle selection, purchase, and delivery. (Try it once and you'll be hooked!)
We are grateful for your understanding, loyalty and cooperation as we march this unprecedented journey together.
Only as one, with the common goal of aggressively shielding us all, will we overcome this invisible aggressor and be all the stronger and united for it.
SINCERELY,
JAGUAR LAND ROVER LAS VEGAS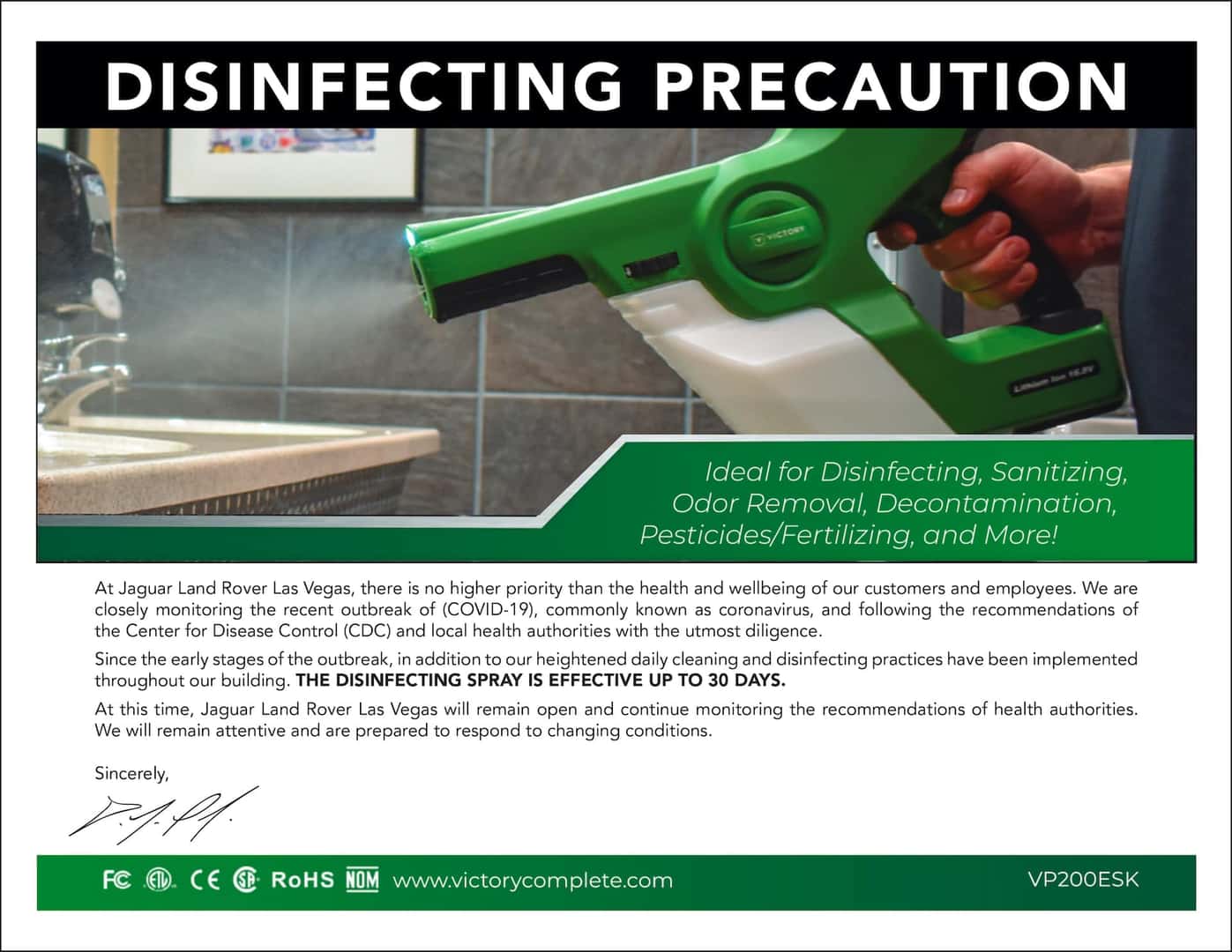 We are providing an anti-bacterial vehicle treatment for $199 for our customers.  Call our service department for an appointment.